Community marketing is one of the most effective business strategies to attract more clients, create engagement with your prospects and inspire brand advocates in a 'post-advertising' era.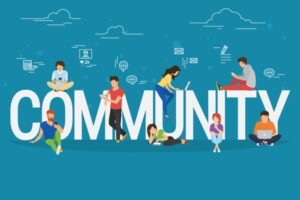 With the increase in social media use and the decrease in advertising effectiveness, more and more brands are beginning to focus on a marketing technique that conveys to people a sense of belonging. This is done by building particular communities for customers who are interested in the company. There are various other great benefits of this marketing technique that we are going to discuss in this article.
What is community marketing?
The technique basically aims at creating a brand presence for customers and engaging them in various groups according to their interests and choices. Community marketing provides a platform to both customers as well as the company to interact `privately.`
Community marketing involves forming an engaging brand presence to interact with a community of existing customers. A brand or an agency is creating a conversation in enthusiast groups, Facebook groups, online message boards, and Twitter accounts. These communities give members a place to make their needs known and allow companies to respond and interact with the brand directly. While other areas of marketing, like advertising and public relations, generally focus on adding new customers, community marketing emphasizes the relationship with the customers that a brand already has. By focusing first on meeting the needs of their current customers, corporations can avoid spending money on advertising to attract new customers. However – Clickz.io offers to turn this strategy on its head by allowing SMBs and small companies to harness the power of a  large community even if they currently Still, don't have one!
How is community marketing is the next big thing?
While we can clearly see that other forms of advertisements and marketing primarily focuses on targeting potential customers; the main intention behind community marketing is to improve and emphasize the company's relationship with the existing users.
By focusing on and fulfilling the needs of the existing customers, the company will be able to save a lot of money that is spent on the advertisement to attract the new ones. One of the main reasons behind the success of community marketing is that it is full of benefits for both of the parties involved and not just one client in general.
What companies are using community marketing?
This type of marketing techniques is most useful for companies that happen to provide the products with regular updates. Such as software companies, Start-ups, Mobile Apps and Hi-tech ventures. However, Clickz.io platforms enable companies from various fields and industries to employ community marketing tactics which were not available for them in the past.
It`s essential for every company to receive the customer feedbacks; so that they can easily reach the desired changes in the next update of that product or increase their retention performance. We find it essential for any company who cares about its reputation and customer welfare, to use community marketing services.
Community marketing is the next big thing in the advertisement market. Contact us today to learn more.